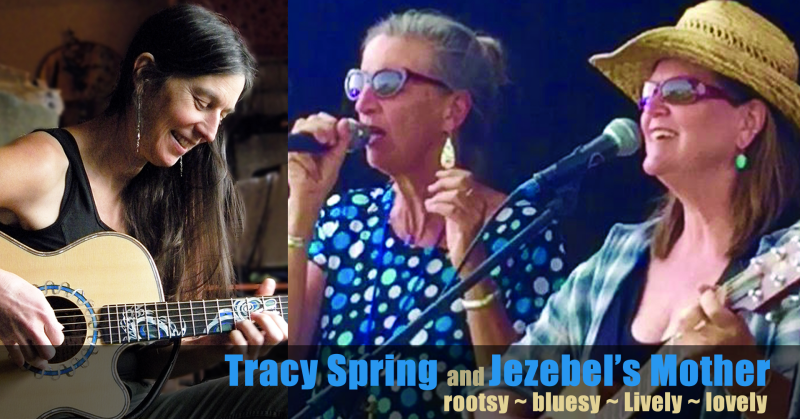 Saturday, August 20, 2022 - 7pm
Tickets by reservation only (limited seating)
Hosted by Genny and David Cohn, this backyard concert features award-winning songwriters Tracy Spring and Jezebel's Mother (Janis Carper and Carolyn Lochert). The three women are accomplished singers and instrumentalists, with strong delivery of mostly original songs with tight, innovative harmony.
Doors open at 6:00pm. Finger food, dessert, and soft drinks will be provided. BYO lawn chairs and adult beverages. This is an outdoor concert and will be held rain or shine.
Questions? Send an email.
Or call 360-961-2585
---
Based in Bellingham, performing songwriter Tracy Spring is known for her rich, compelling vocals and versatile guitar playing. Her wide musical range is demonstrated by women she's been compared to, including Sarah McLachlan, Tracy Chapman, kd lang, and Yo Yo Ma's cello.
From beautiful Wallowa County in Eastern Oregon, songwriters Carolyn Lochert and Janis CarperóJezebel's Motheróblend their talents to form a unique sound; swirling with rhythms and harmonies, sentiment and smiles, tight but spontaneous, each performance a musical adventure that reveals the bond of best friends. Whether they're belting out blues on a big concert stage or crooning in the corner of a cozy coffeehouse, these two seasoned musicians entertain with soul and style, heavily influenced by the likes of Etta James, Billie Holiday, Abbey Lincoln, and Aretha Franklin.
---
To purchase tickets, choose the ticket price from the drop-down below and click Add to Cart. You can then select the quantity and complete your purchase via PayPal.