The Vancouver Molson Indy
July 23-25, 2004
(click an image for a larger view)
Bruce got to go with me to the Molson Indy Vancouver this year. But not just as a spectator. He came as my assistant—on a full photo credential. So he was at track side with me the entire weekend.
While most of our photos appear in the Race Photos section of my public website, I thought you might enjoy some of the non-photo journalist shots as we "worked" the race.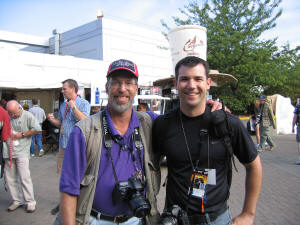 We managed to stop long enough to let another photographer grab a shot of us together. After all, how often do father and son get to spend a weekend like this?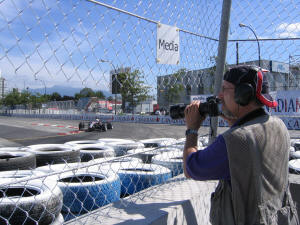 Bruce took this one as I photographed the Atlantic Series race on Sunday morning.
Like I've told everyone, they let the photographers get extremely close to the action. Here I am on the pit wall shooting photos of one of the pit stops during the Champ Car race on Sunday afternoon. Bruce took this from the fueling area. You can see one of the cars going by on the track immediately behind me.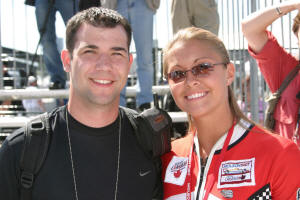 Trust a pilot to find a pretty girl. Bruce got me to take this shot of him with one of the Miss Molson Indy participants during the victory podium ceremony at the end of the race.
copyright © 2001-2008, David S. Cohn. All Rights Reserved.