Tour the C-17
January-February, 2004
(click an image for a larger view)
After a round of gold at the McCord Air Force Base golf course, Bruce took us to the flight line, where we got to climb all over a C-17.
I don't know how to even begin to describe this amazing airplane. So I'll let these photos speak for themselves.
Click the link below to watch a brief slideshow of additional C-17 images.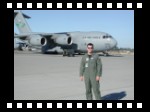 copyright © 2001-2008, David S. Cohn. All Rights Reserved.